Meet the Daniel Family
Dr. Patrick's first duty station was at Camp Stanley in Uijeongbu, South Korea, which is located north of the Korean capital, Seoul. Uijeongbu lies inside a defile, with mountains on two sides, and commands a natural choke point across the main traditional invasion route from the North into Seoul. As such it has a continued military significance and it contains U.S. and Korean military bases, positioned for the defense of the Korean capital. The U.S. Second Infantry Division has established a headquarters post in Uijeongbu, with the main troops being deployed from Dongducheon city. Despite being known for its military presence, the area has boomed into a satellite community of Seoul with shops, cinemas, restaurants and bars. There are several mountains such as Mt. Dobong, Mt. Surak and Mt. Soyo. The mountains are popular recreational areas for hiking and are frequented by residents living in the Seoul Metropolitan area.
This city is also famous for its budae jjigae (lit. "army base stew"), made with hot dogs and SPAM. In the late 20th century, many wanted the dish to be referred as Uijeongbu jjigae to remove the military or war-time connotations it had associated with it. However, not many restaurants followed this guideline. Some restaurants have begun calling their product Uijeongbu budae jjigae. The city also contains what locals refer to as "buddaejjigae street", a street where there is a high concentration of army base stew restaurants.
South Korean Temple


During his tour in South Korea, Dr. Patrick learned that he was selected for the Army's prestigious Advanced Education in General Dentistry program in Colorado Springs at Fort Carson, CO. Dr. Heidi was also selected for a General Practice Residency, in Denver, CO. In their limited free time during their year long residencies, they enjoyed hiking, and took trips to the Rocky Mountain National Park. Dr. Patrick was able to gain extensive knowledge in oral surgery and prosthodontics (crowns, bridges, and dentures) during his time at Fort Carson. Dr. Heidi worked at Denver Health Medical Center, in the Lincoln Park neighborhood. While there, she was able to treat underserved children and found her passion for working with kids.
Rocky Mountain National Park

After leaving Colorado, Dr. Patrick and Dr. Heidi moved to Germany. Dr. Patrick worked at the training base in Grafenwohr, which is a town in the district Neustadt, in the region of the Upper Palatinate in eastern Bavaria. The Grafenwohr Training Area (Tower Barracks), is located directly south and west of the town. Dr. Heidi worked at the Bamberg Dental Clinic in Bamberg, Germany. Bamberg is a town in Upper Franconia on the river Regnitz close to its confluence with the river Main. A large part of the town has been a UNESCO World Heritage Site since 1993.
Bamberg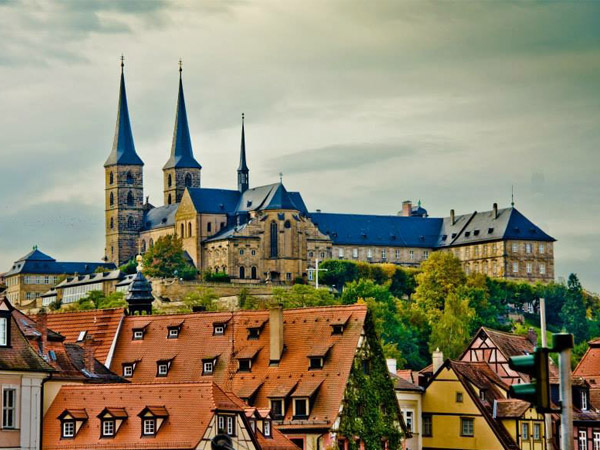 While stationed in Grafenwohr, Dr. Patrick was chosen to deploy to Afghanistan. He was sent to Bagram first, and then on to a forward operating base called Camp Marmal. Due to Patrick's extensive dental training, he was selected to serve as one of only two dentists in the northern region of Afghanistan. He was tasked to set up three separate dental clinics and was responsible for treating soldiers in three forward operating bases around the region. He frequently had patients flown into see him in the wee hours of the morning. After two years of working in Grafenwohr, Patrick transferred to the Schweinfurt Dental Clinic. Schweinfurt is a city in the Lower Franconia region of Bavaria in Germany on the right bank of the navigable Main River, which is spanned by several bridges, 27km northeast of Wurzburg. This is where Dr. Patrick received extensive training placing implants. Here is a photo of the town of Amlingstadt, Bavaria, where Patrick and Heidi lived during their four years in Germany. They enjoyed hiking through the fields surrounding their neighborhood with their dogs.
Amlingstadt

After reluctantly leaving Germany (Bamberg and Schweinfurt's Army Installations closed their doors in early 2014), Patrick and Heidi moved to Anchorage, Alaska to begin their final tour with the Army. Dr. Patrick worked at Fort Richardson, and Dr. Heidi worked in private practice. There were so many things to do in Alaska- they enjoyed hiking, fishing, and camping to name a few.
Iditarod Start Race
Denali, as seen from Talkeetna

As their time in Alaska came to a close, the Daniel family wanted a place to raise their family. They are excited to call East Tennessee their new home!